We had a fantastic time exhibiting at the 2023 Health Optimisation Summit which
was held at The Business Design Centre in London. It was an extraordinary event to
be part of and all that attended (us included) came away from the weekend feeling
inspired, informed, and equipped with practical tools to optimise our health and well-
being.
The lineup of speakers and experts was truly remarkable. Renowned individuals from
various fields, including nutrition, fitness, mindfulness, and mental well-being, took to the stage to share their knowledge and insights. Each presentation was thought-provoking and
engaging, providing a deep dive into the latest scientific research and innovative approaches
to health optimisation.
The exhibition area was our home for two days and was a bustling hub of energy. I was blown away by the wide range of incredible health and wellness brands showcasing their products and services. From organic food and supplements to
wearable devices and digital health apps, there was no shortage of tools to support
our health goals and get inspired!
We were particularly impressed by Bahé's range of super stylish grounding trainers that mean you can connect to the earth while running https://bahe.co/. We will definitely be
investing in a pair or two. They have a great colour selection too! I'm a particular fan of the Forest Green.
We also met some of our biohacking heroes and couldn't resist the opportunity for a
cheesy, smiley pic or two!!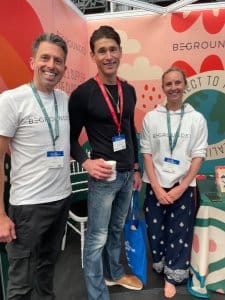 Ben Greenfield – Ben has become a prominent figure in optimizing human potential.
Known for his relentless curiosity and dedication to pushing the boundaries of human
performance, he consistently explores innovative approaches to nutrition, exercise,
and lifestyle, sharing his findings and insights with a global audience. Greenfield's
charismatic and engaging personality, coupled with his vast knowledge and practical
advice, have earned him a loyal following and made him a go-to resource for
individuals seeking to enhance their health, fitness, and overall well-being.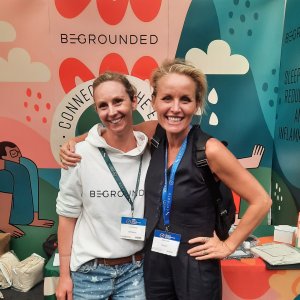 Davinia Taylor – a remarkable individual driven by a deep passion for biohacking
and optimal health. As an accomplished author and biohacking enthusiast, Davinia
has made significant contributions to the field, empowering others to take charge of
their well-being. Her brilliant books which we absolutely recommend, 'It's Not a Diet' and 'Hack Your Hormones' have both
become Sunday Times best sellers and are go-to resources for individuals seeking
to optimize their physical and mental performance. With an unwavering dedication to
uncovering the latest scientific advancements and self-experimentation, Davinia's
work delves into a diverse range of biohacking techniques, from nutrition and sleep
optimisation to stress management and cognitive enhancement. Her expertise and
commitment to sharing knowledge have inspired countless individuals to embark on
their own transformative journeys towards a healthier, more vibrant life.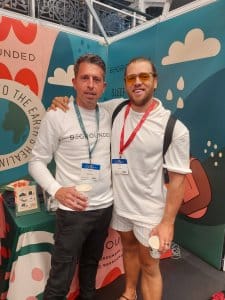 Ryan Carter – is a highly regarded nutritionist and wellness advocate, widely
recognized by his Instagram handle, @Livevitae. With a profound passion for nutrition
and its impact on overall well-being, Ryan has established himself as a trusted
source of expert knowledge in the field. Through his engaging social media
presence, he shares evidence-based insights, practical tips, and delicious recipes
that empower his followers to make informed choices and cultivate a healthier
lifestyle. With a focus on whole foods, balanced nutrition, and mindful eating, Ryan
Carter's expertise and engaging approach make him a valuable resource for those
seeking to optimize their diet
We loved meeting so many like-minded individuals. It was our first exhibition as
BeGrounded and it exceeded our expectations, we can't wait to go back next year!