Description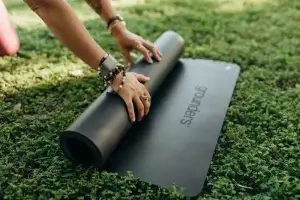 Product Description:
This densely cushioned mat has conductive hydrophilic polyurethane top and bottom layers that absorb sweat
Fully conductive on both sides, with no cord, when placed on grounded surface or indoor when used with magnetic snap coil cord
Easy to clean
Sustainably packaged
Dimensions:
Double Sided 

Yoga

 Mat 3.5mm, 26″ x 71″
3.5 MM
Materials:
TOP & BOTTOM layers are polyurethane (PU) infused with conductive carbon.
PU: This smooth surface is vinyl-free and phthalate-free and helps absorb sweat.
Carbon: Carbon is the 2nd most abundant element in the human body, after oxygen, and is what conducts the earth's electrons. It also makes this Yoga Mat naturally flame resistant without the need to add harsh chemicals.
Core:
Contains natural rubber for dense cushion.
How it Works:
Earthing significantly reduces the degree and duration of soreness and inflammation after intense exercise. Practicing yoga while grounded has incredible benefits, including;
Reduced inflammation and pain
Reduced exercise-induced blood thickness
*Research was undertaken on the effect of earthing on DOMS and muscle recovery. The research showed that earthing following eccentric exercises, changed blood counts relating to inflammation and showed lower blood creatine kinase indicating reduced muscle damage (Chevalier, Brown and Hill, 2015).
Link to research: